Awards
---
MemberXP Best of the Best
February 20201 - MemberXP, a solution of CU Solutions Group, has named Dannemora Federal Credit Union one of their 2021 Best of the Best award winners.
The prestigious Best of the Best award is granted each calendar year to credit unions that have consistently provided exceptional member service. Only one in five of the highest-performing credit unions utilizing the MemberXP platform are given this honor. The Best of the Best award is independently granted by MemberXP based on specific criteria, including member service and ease of use.
Read more about MemberXP & these awards here.
---
DepositAccounts.com Top 200
Healthiest Credit Unions in America
DepositAccounts.com, a subsidiary of LendingTree, has named Dannemora Federal Credit Union as number 47 of the 2021 Top 200 Healthiest Credit Unions in America.
DepositAccounts.com evaluates the financial health of over 10,000 banks and credit unions in the United States once per quarter. To determine bank ranking and recognition, DepositAccounts.com grades each institution on a number of factors, including capitalization, deposit growth, and loan-to-reserve ratios.
Find additional details here.
---
2019 Press Republican Reader's Choice
Awards Winner - Credit Unions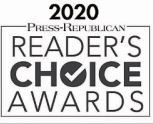 ---
What Our Members Have to Say
---
Valued DFCU Member, Member Since 1986
DFCU treats its members like family, and as individuals. They're willing to adjust where possible to suit your individual needs. And the people who work there are awesome.
---
Teddy, Member Since 1994
"I'd recommend Dannemora Federal Credit Union to anyone living or working in the North Country. The overall support from DFCU is above and beyond what I've ever received from a national bank. And it's more important than ever support the local economy."
---
Timothy, Member Since 2010
"I use multiple financial services through our credit union at reasonable rates. I strive to keep my money local and enjoy being part owner of our credit union. Giving people a less expensive alternative for financial products is why I have been a member/owner and will continue to be one."
---
Sharron, Member Since 1996
"DFCU is like family. When you visit inside a branch, the clerks are always friendly and welcoming. Even If I did not get the loan, I would still have very positive remarks because of the way I am treated."
---
Andrew, Member Since 2017
"This was our fourth mortgage/re-fi. DFCU's process was the most streamlined we have experienced. The estimate of settlement costs was very accurate and there were no surprises or holdups."